How Does A Plastic Injection Molding Machine Work?

Features of injection molding
How does a plastic injection molding machine work? The principle of operation of injection molding machines for the production of plastics is to melt granular polymer material to a liquid state. Feed it under high pressure into a closed injection mold. Moreover, the product acquires the exact outlines of the internal cavity of the mold.
In addition, various types of raw materials can be good to use in production: polyethylene, polystyrenes, polyethylene terephthalates, polyvinyl chlorides, and polypropylenes.
However, machines are configured for certain parameters:
Consistency;
Degree of viscosity;
Melting parameters.
The main criterion for choosing a material is the melt flow rate.
How does a plastic injection molding machine work? In addition, the strength, quality, and accuracy of product parameters depend on temperature and pressure values, which should be in the range of 80 to 200 MPa.
Moreover, it is important to strike the right balance, as low pressure can lead to cavities or underfilling, while too high pressure can lead to flashing.
Varieties of plastic injection molding methods
The determining factor in the choice of equipment is the melting methods, which are injection or intrusion.
The injection method is suitable for creating parts of complex configurations with walls of various thicknesses: from very thin to thick-walled. Moreover, a popular method is characterized by minimal shrinkage. However, the ability to use multi-cavity molds for plastic injection, and work with any polymers.
The intrusion method is suitable for creating three-dimensional parts with thick walls. In addition, by rotating the screw, the molten mass is fed into the injection mold and fills it. Then, under pressure, another small amount of solution is injected, filling all the cavities of the casting mold and compensating for the shrinkage of the cooling melt.
Stages and features of the process
Moreover, the creation of plastic products in injection molding machines takes place in several stages:
The polymer raw material is loaded into the receiving hopper of the injection molding machine.
Under the influence of their own weight, the granules enter the screw zone, where they are melted under the influence of high temperatures.
In addition, under high pressure, through the mouthpiece of the plasticizing module, the molten mass injects into the molds.
In the process of cooling, the pressure in the molds gradually decreases, and the products are taken out.
However, the entire casting process takes from a few seconds to 10 minutes. Moreover, it depends on the starting material, wall thickness, dimensions, and configuration of the parts.
In addition, plastic parts for cars, various containers, stationery, toys, household items, components for electronics, medical equipment, and other products are created by injection molding machines.
How does a plastic injection molding machine work? Types of molding equipment
The choice of mechanisms and equipment for plastic injection depends on the type, configuration, and dimensions of the manufactured parts.
In addition, machines operate in automatic, semi-automatic, or manual modes.
Extruders
Good to use for the production of sheet products, polymer films, plates, pipes, and window profiles.
Moreover, the raw material load into the mechanism and squeeze out under pressure through molds with predetermined proportions.
Machine tools include:
Pneumatic loading mechanisms;
Extruders with a filter system;
Blowing heads with coolers;
Calibration mechanisms;
Pulling and turning devices;
Stacking and winding modules.
In addition, extruders control automatically using special programs.
Injection molding machines
Good to use for injection molding of all types of products under pressure from polymeric materials. Moreover, in injection molding machines, parts of various shapes and configurations with walls of different thicknesses, hybrid, hollow or multi-colored products can create.
In addition, the production technology consists of the melting of polymeric raw materials and injection under high pressure into special molds.
Machine tools include:
Loading bins
Preparation and plasticization modules;
Press forms;
Closure nodes;
Automatic control units.
By design, injection molding machines are:
Electrical, electromechanical, and hydromechanical;
With combined or separate plasticization;
Piston, worm-piston, one- or two-worm.
How does a plastic injection molding machine work? In addition, they can have one or more options for plasticization and a different number of mold closure nodes.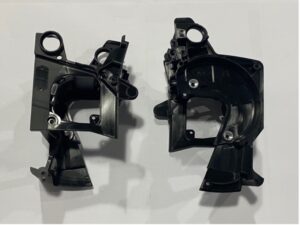 Blow molding machines
Good to use for the manufacture of polyethylene containers and containers with thin walls: bottles, canisters, barrels up to five thousand liters.
Moreover, blow molding machines heat up polymer raw materials and create products by blowing them into molds of certain sizes.
Extrusion blow molding lines
They produce products by combining the methods of extrusion and blowing, which expands the possibilities and range of products.
In addition, extrusion blow molding machines produce:
Fuel tanks and bumpers for cars, various bottles, bottles for the cosmetic and medical industries, chairs, buckets, and toys.
Moreover, machines differ in the type of extrusion heads, the number of streams and posts, including:
Extruders that heat up and prepare the polymer mass
Molds with a closing mechanism for molding products;
Heads of angular or direct-flow configuration, single or multi-strand, for forming sleeves or pipes;
Blowing elements supplying compressed air at high pressure to molds with blanks.
Extrusion blowing lines are equipped with compressors and coolers.
Thermoforming complexes
Good to use to create disposable plastic utensils or containers with thin walls.
In addition, the production technology consists in blowing products from a polymer film heated to a temperature of about 140 ° C, with a thickness of more than 100 microns. Moreover, finished products are punched out of the plate and packaged.
The process is controlled semi-automatically or manually.
Additional accessories
The production of plastics is equipped with various auxiliary devices:
Dryers;
Dispensers
Mixers
Conveyors
Crushers;
Loaders;
Conveyors.
Mini machines for highly specialized enterprises
In addition, for the production of small batches of plastic products or experimental batches of goods, there are mini-machines on the market suitable for use in small, highly specialized enterprises.
Moreover, compact machines do not require large production areas and can be placed on a regular table. Craftsmen make such machines with their own hands to organize production at home.
The technique for plastic injection is characterized by the high precision of products and other advantages:
The possibility of manufacturing products of any geometric shapes and sizes of impeccable quality.
2. Use of any polymers.
3. Mass production of identical parts.
4. Lack of additional refinement of cast products.
5. Profitability and quick payback of production.
Moreover, by injecting the molten mass under high pressure, the molds are evenly filled, including the smallest details and holes.