Company Introduction
Who We Are
We, Tip-Top Molds & Products Co., Ltd, are located in Shenzhen, China——bordering Hong Kong. It is only 20 minutes drive away from Shenzhen International Airport, an hour's drive away from Hongkong International Airport.
It has been over 17 years for us to supply plastic injection molds to our overseas customers since 2005 when we were founded. With the continuous development of the company, we have now developed a bigger and bigger mold factory. Most of our customers come from the US and Europe, like 4FM, CMI, CPC, Chrysler, EME, Keykert USA, PWC, PCCP, RPS, and PMB from America, as well as some customers from Europe, like SBI from France, JSG, SSG, SKG, and MMG from Germany, and GGE from Irland.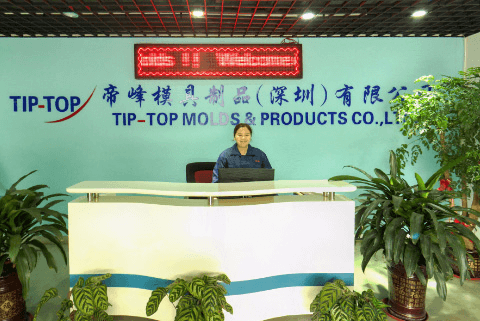 Tip-Top Molds is good at Unscrewing Injection Mold, Over-mold, 2-Shot Mold, 2K Mould, Collapsible-Insert Injection Mold, Hot Runner Injection Mold, Gas-Assisted Injection Mold, 2-Step Slider Injection Mold, Cavity-Lifter Injection Mold, and 3-Plate mold. Our main industries served are Automotive, Household, Cosmetic, Cellular, Packaging, and Consumer Products. Most of our customers have stayed with Tip-Top for over 10 years. Why? Because we are one of their most dependable injection mold suppliers! With a young, skilled, and happy team where each member is diligent and working hard to contribute to their job, we always have good cooperation with our customers and be able to meet their demands.
We would be one of your best suppliers of injection molds if you come to us. I believe both sides of us would be benefited from our cooperation. Our advantages are quick response, on-time delivery with outstanding quality, at a competitive price!
Tip-Top Molds is always looking forward to cooperating with you.
Choose Tip-Top, Get a Great Job!
Best Services For You
Being a Chinese Plastic Injection Mold Manufacturer, Tip-Top Molds has over 17 years of experience in Injection Mold Design, Injection Mold Making and Plastic Injection Molding. We are capable of making types of plastic injection molds ranging from basic open-shut to complex designs, such as Overmolds, Auto-Unscrewing Molds, Insert Molds, 2-Shot Molds/2K Moulds, and Other Injection Molds.
PHILOSOPHY
Mission & Vision
Based on a common assessment, through daily compliance with the code of conduct, our goal is to become an excellent representative Global Plastic Injection Mold Manufacturer by improving our skills & abilities, strengthening team cooperation, firmly establishing a sense of service & quality awareness, as well as enhancing the cohesion within the company.
MISSION
Become a professional and innovative injection mold manufacturer that is always ready to rise to market changes and challenges. Always manufacture high-standard quality injection molds to meet and exceed our customer's expectations.
VISION
To be a preferred supplier of plastic injection mold to worldwide customers.
VALUES
Integrity: Honesty is the core of our corporate culture and values.
Gratitude: Gratitude opens the door to more relationships. Always be thankful to our customers and team for their trust and support on Tip-Top.
Respect: To create a culture of respect within the company including Self-respect, Relationship respect and Organizational respect, so as to let everyone in Tip-Top perform better, develop more and express creativity freely.
Real Photos Of The Company