Insert Mold-Injection Mold-The Suction Cup Connection Disc Part
This is an injection molded part from an insert mold, which is the Suction Cup Connection Disc Part of Exhausting Equipment. It is made from PA66+ GF60, black.
This part molded with 6 brass nuts is produced by a single injection mold with single-cavity and single-drop INCOE hot sprue, of which moldbase is made of 1.1730 steel and blocks are made of S136H steel. Its mold type is High Volume Production Tool. Besides, the mold surface finish for this part is SPI-B3 standard and the EDM Texture is VDI 3400 RT 30~33. Furthermore, the size of the mold is 400*350*443mm, and its net weight is 400kg. The mold service life would be 500,000 shots.
The injection mold is made by Tip-Top molds in Shenzhen, China. The molded part on the picture you've seen is also the sample we produced for customer's verification. After the mold trial every time, we delivered the samples to our German customer by UPS or FedEx. Mold is too heavy to take the express delivery so it was delivered by the logistics company after being packaged in a wooden box. We would help to handle it, but of course, customers could arrange their own freight forwarder too.
Injection Mold Making and Injection Molding are our core businesses. We provide injection molding and contract manufacturing services in the Packaging, Consumer Appliances, Home Automation, Automotive sectors, etc.
When you choose Tip-Top Molds, you would get an expert partner through the entire production cycle, taking your product from concept to reality.
insert mold injection mold Specification
| | |
| --- | --- |
| Part Material | PA66+ GF60 – black |
| Part Application | Suction Disc for Exhausting Equipment |
| Selling Units | Single Mold |
| Mold Type | High Volume Production Tool |
| Mold Details | Single-Cavity, Single–Drop INCOE Hot Sprue, Molded with 6 Brass Nuts |
| Mold Finish | SPI-B3,EDM Texture VDI 3400 RT 30~33 |
| Mold Steel | MoldBase-1.1730; Blocks–S136H |
| Mold Size | 400*350*443mm |
| Mold Weight | 400 kg |
Mold Photos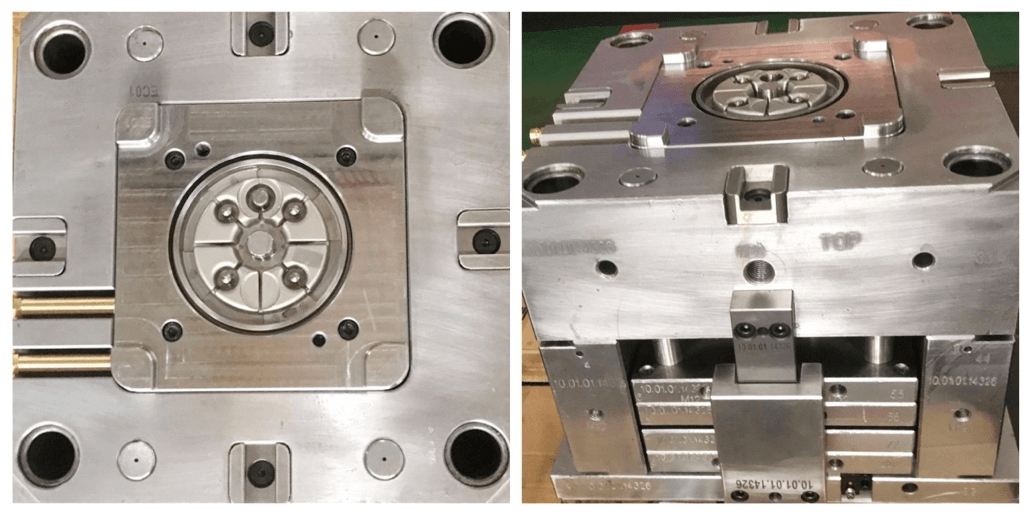 | | |
| --- | --- |
| Place of Origin | Shenzhen, China |
| Package Type | Wooden Box |
| Inner Box Size | 550*500*550mm |
| Outer Box Size | 570*530*620mm |
| Gross Weight | 430 kg |